Article
My Journey from Traditional Ownership to Becoming the First Veterinarian at CVP
Learn why CVP was the right fit for Dr. Sarsfield when it came to selling his practice and how this partnership has grown over the years.
---
As a veterinarian, I understand that selling your practice can be scary. Questions flood your mind such as "Will someone try to change how I treat patients?" "What will happen to my team?" "Will my community think I sold out?" "What kind of legacy will I leave behind after all these years?"
I felt the same apprehensions when I considered selling my practice 13 years ago, and I knew it would all come down to finding the right partner that I could trust.
I'll admit – joining the CVP community as their first veterinary practice was a bit of a 'leap of faith.' But I knew this was the best path for me.
Since I took the jump and sold my practice in April of 2010, I've seen my hospital thrive. Our team opened a second location, improved animal health through clinical trials, and found a true home and community in which to invest.
Over a decade later, I'm just as passionate as I was on day one to see CVP grow and flourish. I'm confident in my decision that this was the right partnership for me and my practice.
So, what made CVP the right fit and what has my journey been like since? Keep reading to find out.
A quick look at my veterinary background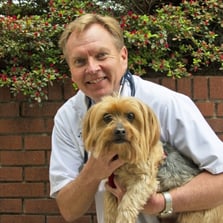 First, let's rewind back. Way back. Like many of you, I started at the bottom of the veterinary industry and worked my way up.
My journey with the Animal Hospital of Dauphin County began in 1979 cleaning kennels. From there, I worked my way up to veterinary technician assistant, to technician, and finally to veterinarian. I eventually invested as an equal partner in the practice with Dr. Kepner and Dr. Hartman. Later, I took on management responsibilities for the clinic when my business partners retired.
In my new role as lead doctor, I was determined to find more efficient and cost-effective ways to operate that would allow me to focus on patient care. This meant finding a partner to alleviate the business side of the clinic – which was burdensome and time-consuming.
Knock, Knock— A perfect partnership was calling
Thankfully and luckily, CVP found me around this time. I received a phone call one day from the team and I have to say, I was intrigued.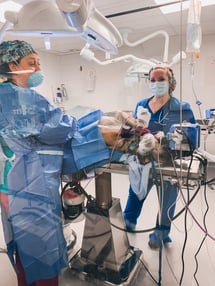 I didn't align with other veterinary acquisition groups because it was apparent that they wanted to dictate how our clinic managed medicine. I was adamant about continuing to make the important medical decisions for my practice without being told what and how to do it.

CVP offered this freedom and autonomy, while absorbing the daunting parts of owning a veterinary clinic (like HR, supplies, ordering, and financials). For me, it was a win-win!
But what does this partnership really look like? With the resources and support I gained from CVP, I have been able to focus my time and energy on expanding our clinic's service offerings to include:
Canine rehabilitation services.

Synovetin treatments for Canine Osteoarthritis, a new breakthrough treatment that requires just one minimally invasive injection that lasts for up to one full year. I'm proud to be part of a select group of veterinary hospitals throughout the country that offer this treatment.

I-131 treatment for cats with hyperthyroidism.

Partnership with a board-certified surgeon, Dr. Kurt Michelotti.

Providing cardiology services with a board-certified cardiologist, Dr. Jonathan Goodwin.

Participation in nearly 50 clinical trials to improve animal well-being. Medications approved after our trials include Bexacat, Nocita and Elura.
With the additional resources from CVP, my team and I had more time to focus on patients and provide cutting-edge care. We began to see significant growth.
This led to acquiring a second location in June of 2021 in Linglestown, PA. With the help of the CVP team, the transition was seamless. There was 95% retention of team members after one year and significant revenue growth because CVP did not change the way we practiced medicine and allowed us the freedom to build our own culture.
I get to be a local vet with big reach
With CVP, I feel like I get the best of both worlds. I'm able to serve my local community across two hospitals, but I also have the opportunity to contribute to the greater good of my beloved industry. CVP enables me to empower other veterinarians in our spanning network by:
Serving as

Chair on the CVP Operations Advisory Board where I expose our teams to new techniques and ensure we are operating at the highest level.

Serving on the Business Development Board where I offer valuable perspective on what veterinarians want and need as we grow our community and bring on quality hospitals.

Supporting aspiring veterinarians, particularly LMU students, in being a mentor and hosting student externships at our Dauphin County hospital.

Brainstorming, ideating and solving difficult cases as a group as they arise across the community.
Over the years, I have realized CVP truly takes pride in partnering with some of the best hospitals and empowering them to reach levels not available to the solo practitioner. Since I raised my hand to be the first follower, we have grown to a community of over 130+ hospitals across 18 states.
When I sold my hospital, I was afraid I would lose what made my practice so successful for so many years. The reality is, CVP has helped me make it better by providing my team with the support they need to be the best at what they do. CVP allows us to focus on delivering care to each pet that comes into our hospital.
I feel I have found my people and I'm now part of a spanning community where we are leading the industry in compassionate and effective care.
Interested in chatting directly with me about my experience and seeing if CVP is your calling? Reach out today and the team will connect us.