Webinar
Let's Move Upstream: Prevention
CVP teams up with Not One More Vet & Dr. Tiana Kelly, DSOCSCI, MA, LPC, NCC, for an educational session about suicide prevention in the veterinary industry
---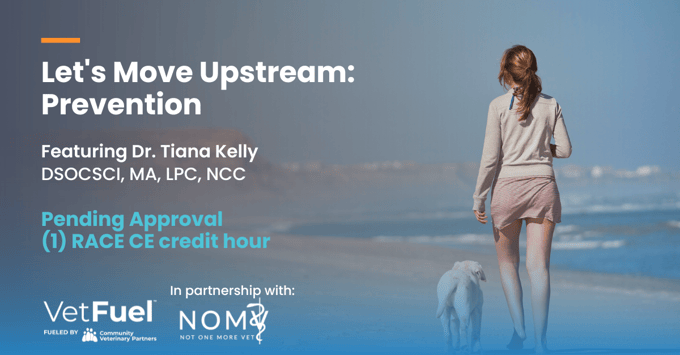 CVP is pleased to welcome back Dr. Tiana Kelly, DSOCSCI, MA, LPC, NCC, with Not One More Vet to host a special VetFuel webinar in light of Suicide Prevention Month.
We've heard Benjamin Franklin's quote, "An ounce of prevention is worth a pound of cure;" However, too often we neglect the value of prevention.
This presentation focuses on educating participants about the spectrum of intervention, prevention as a wellness modality, how to enhance individual, relational, community, and societal influences on health, as well as strategies for mitigating risk and increasing protective factors.
Originally designed for mental health professionals, this presentation is tailorable to meet the needs of veterinary practice managers, veterinarian and veterinary technician students, and professors of veterinary medicine.
---
Featured Speaker: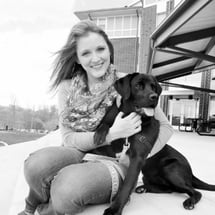 Dr. Tiana Kelly holds a Doctorate Degree in Prevention Science from Wilmington University. She is also a Licensed Professional Counselor, National Certified Counselor, and candidate for a Certificate of Education in Animal-Assisted Psychotherapy.
Dr. Kelly focused her doctoral studies and dissertation research on veterinarian suicide prevention, with a specific emphasis on exploring the impact of DVM/VMD programming on students' exposure to suicide prevention initiatives.
Dr. Kelly focuses on equipping individuals with the knowledge and skills necessary for risk prevention and mental health promotion. In addition to her formal education, she has participated in extensive professional trainings related to trauma, sexual and domestic violence, treatment modalities, as well as culture-centered disaster mental health counseling.
Dr. Tiana Kelly
DSOCSCI, MA, LPC, NCC
In partnership with